Safump 14 FT Outdoor Trampoline With Enclosure
QUALITY & SAFETY
ASSURANCE
About Safump 14FT Trampoline

Zupapa Safump 14 ft trampoline has a total of 108 springs and other trampolines usually only have 96. The more springs, the more bounce, and the more fun. And the trampoline springs are out of the safety net, so you don't have to worry about your kids stepping on the spring when they jumping. It is certified by TVU and ASTM, you can buy with confidence.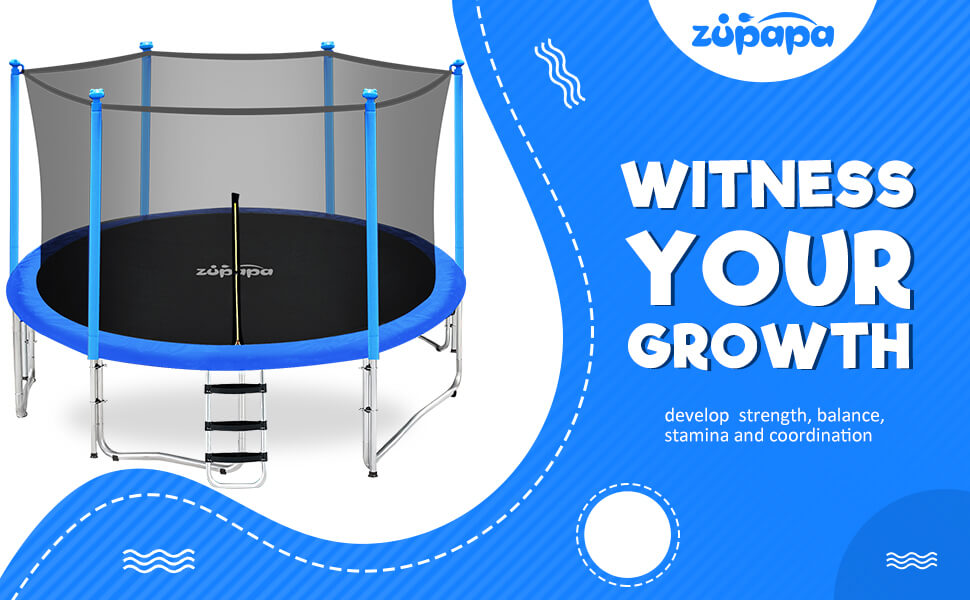 Advantages:
Higher Weight Capacity
Our unique two-steel joints design along with W-shaped legs provide a solid base for the whole trampoline. The 2021 Zupapa Safump 14 ft trampoline upgraded the steel pipe thickness from the ordinary 1.2 mm to 1.5 mm. Max weight capacity is up to 425 lbs.
Longer Service Life&International Certification
Zupapa Safump 14ft trampolines use hot-dip galvanization to make all the frames anti-rust and last for decades. Antirust time is 5 times longer than that of common galvanizing. What's more, we add UV absorber UV-9 to the pad, mat, and net to make our trampolines more durable. Our trampolines are tested for safety and durability to exceed all ASTM and TUV standards.
Non-slip Ladder & Rain Cover
Our upgrade no-slip ladder ensures the safety of every step of your kids. Zupapa Safump 14ft trampoline comes with a blue rain cover to keep rain sunlight UV away from the trampoline to extend its life.
High-Quality Materials
Galvanized anti-rust springs(7 inches) offer impressive bounce. Anti-UV jumping mat (made of PP) provides greater weight capacity. 8.9ft higher enclosure net (made of environmental PE) ensures absolute safety and fastness when jumping. And the poles are padded with thick foams, which can protect your kids from banging against the steel pole.
Product Detail:
PE enclosure net
Provide safer and more jumping space for your family. Higher, more durable, and more stretches.
Durable Jumping Mat
Max weight limit up to 425LBS, even the majority of adults are also welcome! It is heavy-duty, using UV protection polypropylene (PP), so strong and durable.
Safer& Thicker Pad
Blue PE and PVC FOAM pad give your kids more protection. 20MM thickness, 13inch extra width fully covers spring and frame.
Two High-quality Assistant Spring-loading Tools
With two free spring-loading tools and two pairs of free knit gloves, it's much easier and safer to help you hook the springs from the mat to the trampoline frame.
Effective Steel Clamp Set
Two clamp sets bundle up each pole and leg together tightly at two places to make Zupapa trampoline safer & firmer.
Slip-resistant Parts & Lawn Stake
To keep the trampoline firm and prevent it from moving for bounce and against the storm to a certain extent.
Warranty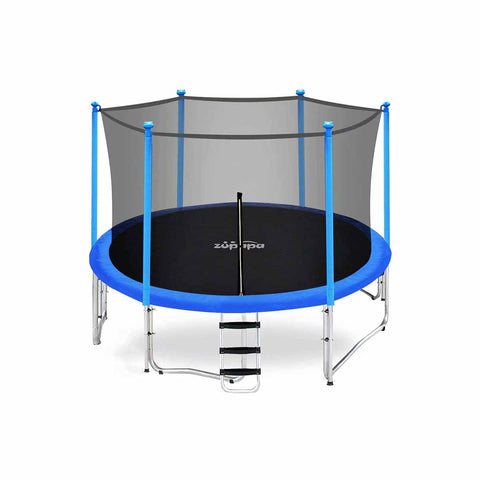 With Zupapa Upgraded Techniques and Technology Enjoy A Longer Warranty in 2021
10 years warranty for 14ft Trampoline Frame;
2 years warranty for jumping mat & double-layer pad & enclosure net & springs;
A replacement for any defective part will be supplied free of charge.
Dimension
15FT
14FT
12FT
10FT
8FT
W Shape Legs
6pcs
6pcs
4pcs
3pcs
3pcs
Net Poles
6pcs
6pcs
8pcs
6pcs
6pcs
Mat Diameter
13.4ft
12.4ft
10.4ft
8.8ft
6.7ft
Net Enclosure Height
6ft
6ft
6ft
5.7ft
5.2ft
Product Weight
207lbs
190lbs
161lbs
112lbs
100lbs
Contents
6 x Lawn Stakes
6 x Lawn Stakes
4 x Lawn Stakes
3 x Lawn Stakes
3 x Lawn Stakes
108 x Trampoline Springs
96 x Trampoline Springs
72 x Trampoline Springs
60 x Trampoline Springs
48 x Trampoline Springs
1 x Trampoline Safety Pad; 1 x Trampoline Ladder; 1 x Trampoline Safety Pad
1 x Trampoline Enclosure Net; 1 x Trampoline Rain Cover; 1 x Instruction Manua; 1 x T-hook
Package Boxes
3
3
3
2
2
Scroll for more →
Notes:
Zupapa Safump 14 ft outdoor trampoline would come in 3 boxes. Please wait patiently if they do not arrive at the same time. You can also contact us for more details.
Zupapa Safump 14ft trampoline will 

not be shipped to Alaska &Hawaii.