As Father's Day falls on June 20 this year, it's that time of year again when we encounter the moment to express our gratitude towards our dad (or other elder males). Here naturally comes a hard task: gift shopping.
To be frank, no matter you're shopping for your dad or any of an honorable elder, the act of picking out the perfect gift can be overwhelming. You think over about questions like this: What do they want? What color would they want it in? Are they allergic to anything? Do they like to read? What's their favorite scent? So many questions, so little time to select.
To reduce your gift shopping stress, we've come up with a list of some practical and meaningful gifts from personalized ones to daily necessities to something that combines utility and recreation. Let's get prepared to surprise all the different awesome males in your life.
Begin with Questions
"Well begun is half done." The rule also goes with gift shopping. To find a perfect gif, we need to be a little creative and ask as many questions as possible. Below we outlined some basic questions for your reference:
What do you want your dad to think of when he mentions this Father's Day?

How does dad enjoy spending his time? (Or what are his hobbies and interests?)

Does he live a physically and mentally active lifestyle?

Are there tasks at home that he does not like to perform?
Although questions are universal, the answer will vary from one to another and would be a guide for your gift picking. We sum up a few gifts that fit into three categories:
Personalized gifts

Recreational gifts that can help to keep the mind and body active

Gifts that essential to daily life
Personalized Gifts
When it comes to a gift, it's always not the price, but the love in it that makes it priceless. You can come up with something customized for your dad or other elder males.
A photo album (or calendar). Photos work great to keep good memories alive. Pick out some old family photos or photos that record the great moments of dad, then make a photo album or calendar. It's sure that most dads, even those who are not that sensitive, would be touched. It would deliver a more loving atmosphere when dad sits down to tell stories behind those selected photos. Of course, you can make the album more memorable by collecting greetings from family members and dad's friends. You can also customize similar gifts like large-print playing cards, personalized puzzles, or refrigerator magnets.
Digital photos. Chances are that dad already has old shoe boxes filled with photo albums. In this situation, you can make these photos easier to access and share by creating digital copies. That is, scan them. In this way, dad can keep them on his phones and review them at any time, just like good days never passed.
Quality time. "Time is your most precious gift because you only have a set amount of it. You can make more money, but you can't make more time. " To share some time with the loved one would be the best gift. Planning a fun day spent with dad is of the most value. A ticket for dad's favorite exhibition, tour site, etc. would be an ideal gift, well-planned activities surrounding his favorite hobbies are considerable, cooking dinner for dad would also be impressive. You can plan a party with members that dad most cherished as well.
Gifts to Help Keep the Mind and Body Active
Health is always essential. Buy something that can help keep the mind and body active such as recreational (or fitness) equipment would be a safe choice at all times. After all, there is no reason for dad to refuse.
Gifts Benefit for Mental Well-Being
A hammock. Letting dad enjoy more "ME TIME" in nature is a trending idea as many dads are still spending more time indoors than usual thanks to the pandemic this year. Hammocks are a great recommendation. No one can refuse the relaxation and fun when hanging in a hammock, especially on sunny days with the gentle breeze. Click to find various hammocks, hammock chairs, hammocks with stand, or hammock stand from Zupapa. Rich in choices and durable to last for years, time will tell how worthy it is to buy one.
An inflatable stand-up paddleboard. What's the first sport comes into your mind in summer? For me, it would be surfing. It's so COOL to get close to water. The same would probably go with your outdoorsy dad (or just aspire to be outdoorsy). So an inflatable stand-up paddleboard would be a good choice. Made of double-layer military-grade materials Zupapa inflatable paddleboards can carry up to 350 pounds, are a great fit for almost all dads. Available in 10' and 11' and rich in color choices as well, you're sure to surprise dad with one.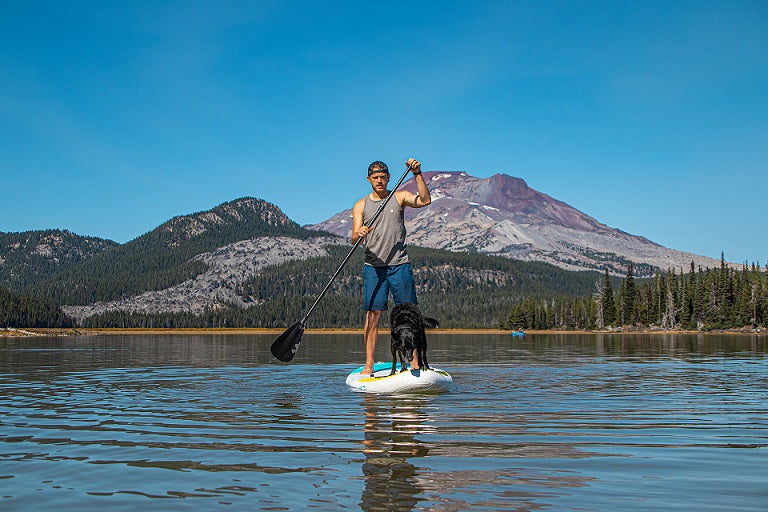 A tent. Besides surfing, summer is also time for parties, hiking, camping, and hiking. A tent, no matter it's a pop up tent, party tent, or camping tent, would be a practical gift. What's more, with multiple choices, a tent is a budget-friendly gift.
A subscription to newspapers or audiobooks. A subscription to dad's favorite newspaper or audiobooks is great, especially when you two share common interests in reading. Imagine how fantastic it would be when you two open the same newspaper, listen to the same voice about the same content, despite the distance between you two. Besides the sentimental value, newspapers and audiobooks are also a great way to kill time and get to know the world.
Gifts for a Good Physical Health
Nutrition supplies. They are the most effective way for good physical health. Consult a physician and buy some suitable nutrition supplies for dad. You can also collect information about health & care such as healthy recipes and workouts for dad.
A fitness trampoline. At-home fitness is trending due to the pandemic. A trampoline designed with exercise in mind (also called rebounder) that would make home fitness easy and interesting would be an awesome gift. Zupapa® fitness trampolines, supported by six arched steel legs and can carry up to 330 pounds (330 lbs), would be a good choice if you're thinking of buying one.
A treadmill. You may consider buying a home-use treadmill for dad if he is looking for a cost-effective alternative to a pricey monthly gym membership. Whether your dad is just trying to get some steps in or an experienced fitness enthusiast, a treadmill would be the equipment to be used most often.
Gifts that Essential for Daily Life
A wallet. For dad, a wallet is probably the accessory that needs replacing most often. So never hesitate to prepare one. You can make it one-of-a-kind by engraving dad's name or initials and gifted it with a greeting card. Dad's heart will surely be touched by the special message you have for him. In addition, any daily necessities such as a weighted blanket, cozy robe, or comfortable sportswear would be a great gift idea.                                  

Home appliances. Let's see what home appliances are missing from dad's home and bring a replacement this Father's Day. From a dishwasher, a vacuum cleaner, a microwave to home décors like chairs, desks, and indoor plants, to smart home appliances include such as an air conditioner, a fridge, or a TV set, you can always find something to make dad' s life easier.
That's it for Father's Day gift ideas in 2021. Have you decided what to buy for your dad this year? Please share with us on Facebook.