45" Mini Fitness Rebounder Trampoline-Hexagon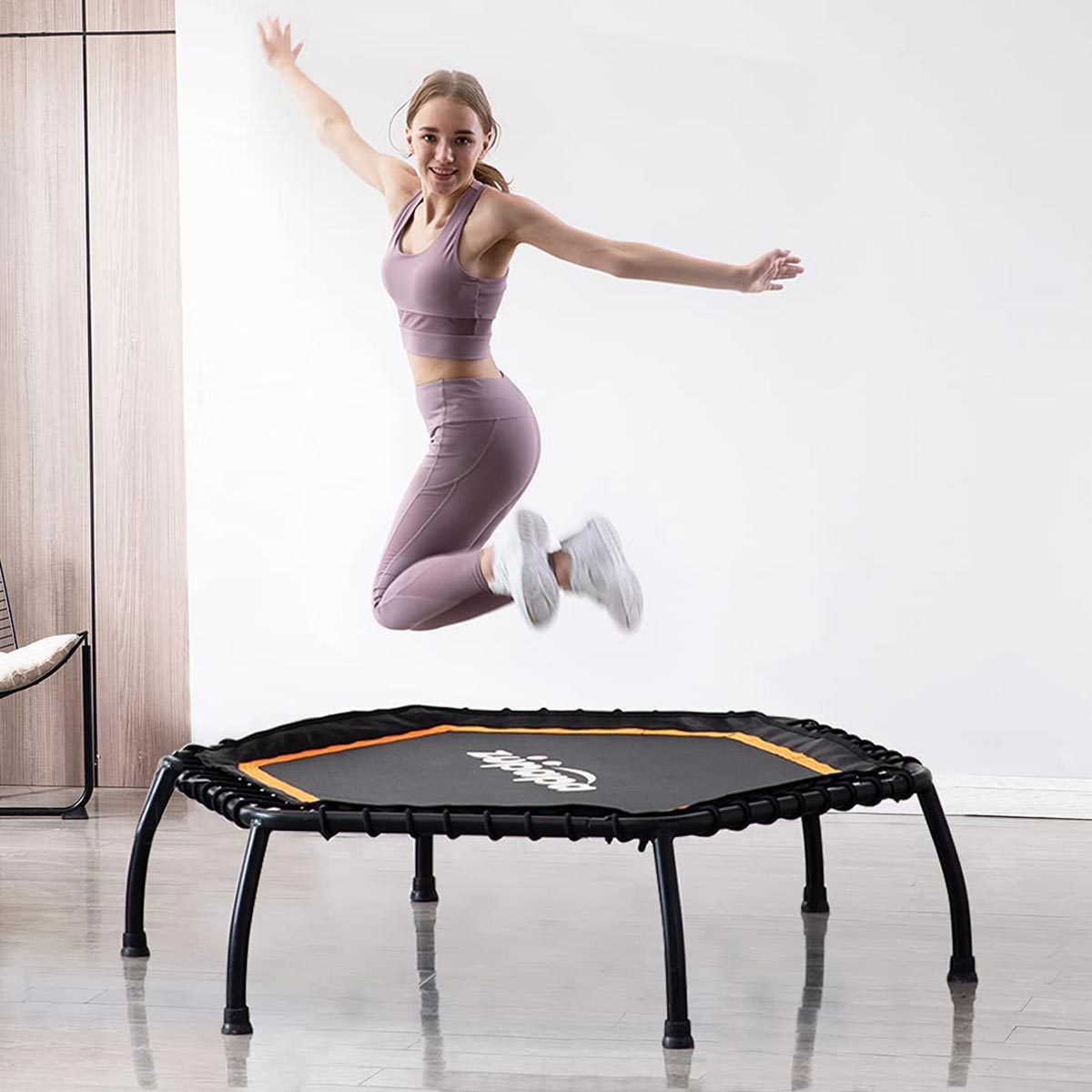 45" Mini Fitness Rebounder Trampoline-Hexagon
Regular price
$149.99 USD
Sale price
$83.99 USD
Unit price
per
Sale
Sold out
Free Shipping
10 Years Warranty
Quality & Safety Assurance
Share
View full details
About 45' Mini Fitness Trampoline
Rebounder trampoline is a safe, effective, and fun way to improve cardiovascular health, tone lower-body muscle groups, burn calories, and improve coordination. Zupapa rebounder is only 45 inches in diameter, making it a great fit for nearly any home or office workout space.  Six rubber-tipped legs protect your floor and provide a solid foundation for the rugged steel frame and can support up to 330 pounds.
Advantages
Professional Fitness Trampoline: The Zupapa fitness trampoline is constructed with 6 bold bungee-rope and 6 durable and firm stainless steel legs, rugged frame, and durable rebounding surface bear the maxi weight at 330LBS. Suitable for kids age 12+ and adults to do cardio and have fun (kid should play under adult supervision).
Body Building Trampoline: The fitness trampoline training uses your body weight and inertia to enable a unique cardiovascular workout without subjecting your body to the stress of high-impact exercise. And it trains a wide range of muscle groups, helps build muscle mass and strengthen the shoulder, hip, and leg muscles.
Silent Exercise Rebounder Trampoline: The non-slip damper sleeve on the legs and the noiseless bungee cord system instead of the spring creates a smooth silent bounce so you can workout without disruptive squeaking. Making it perfect exercise equipment for an indoor and outdoor workout.
New upgrade: The bungee-rope adopts the latest patent upgrade system provides joint-friendly suspension, reduces noise to the maximum extent, affords more stability and more flexibility, and gives you a great jumping experience. A variety of exercises and intensity levels can be added to increase your strength training sessions.

Mini Enough: 

This Zupapa mini trampoline is small enough to fit anywhere.
Warranty:
3-year warranty:

 

Mini Trampoline equipment setup requires some physical labor-please read the user manual or accord to the installation video for set-up and if the installer can't do it alone, we would recommend 1or 2 adults to complete the installation. Regardless of installation or usage issues, please contact us anytime, anywhere.
The 45-inch mini trampoline allows you to complete a richer aerobic exercise.

A variety of exercises and intensity levels can be added to increase your strength training sessions and get the maximum benefits from your exercise routine.

Use a rebounder to achieve your desired fitness goals. Working out by rebounding helps burn calories and improves heart health with low impact exercise.