Trampoline parks are a great place for families or friends to hang out and spend time together. They usually have large trampolines for kids and adults as well as indoor playgrounds. There are also a variety of fun activities and classes.
Trampoline parks are a great choice if you feel that your backyard trampoline isn't suitable for multiple people, or if you want to try out a trampoline for yourself. While there are several excellent trampoline parks in the country waiting for you to visit. Here's a comprehensive list of trampoline parks in the USA and where they are located.
Elevated Sportz
This is a large trampoline park located in Seattle. Besides trampolines, there are foam pit, ninja course, dodgeball, and other activities.
The trampoline-free zone is 10,000 ft, so both kids and adults can jump with great abandon.
The ninja course is where two people stand on a log bridge and see who can knock the other person off their feet first.
Dodgeball is randomly assigned by the staff, with groups of four playing against each other. The person who gets hit by the ball goes down.
Best of all there is a kid's adventure zone, limited to children ages 3-8. Perfect for bringing your kids to play.
There are three types of tickets, with prices ranging from $15 to $29 depending on the venue used, the course, and the time of play. The address is 18311 Bothell Everett Hwy #140, Bothell, WA 98012.
Sky Zone
This is a trampoline park company that was founded in 2004 and now has over 150 trampoline parks worldwide. With parks in most major cities, it is a trusted name in family trampoline fun.
Apart from being able to play here, it can also be used as an event venue for birthday parties, team events, and more.
The parks have a wide range of recreational facilities and besides the trampolines, there are added baskets, dodgeballs, slides, and sky ladders. The many attractions will keep you entertained all day long without getting bored.
Ticket prices for Sky Zone trampoline park vary depending on the location. Each sky zone will have different discounts. But in general, there are three types of passes: 90 minutes, 120 minutes, and all-day passes. you can search for your nearest sky zone address to get there.
Altitude Trampoline Park
This is likewise a chain of trampoline parks that are found in 27 states.
There are five attractions Basketball Trampoline, Battle Court, Dodgeball, Kid's Court, and Main Court.
Of course, you can also host birthday parties here. Their packages include two hours of jumping time, food and drinks along with gifts for the kids and more.
Since this is a chain of trampoline parks, each one has different types of tickets and prices. It will change depending on age as well as playtime, so choose your nearest store to see specific ticket prices.
Urban Air Trampoline Park
This is a large trampoline park found throughout the United States and Canada with over 150 parks. It is more of an indoor playground than a trampoline park.
With over 20 attractions, it's a great place to have fun all day. The main attractions are the bumper cars, go-karts, and bowling, which are rare at other trampoline parks. Even parents who come with their children will be able to find an attraction that suits them.
There are three types of tickets available at each location: under-five, all-day, and parent. Urban Air will be more affordable than tickets sold by the hour.
Rockin Jump
Founded in 2010, it now has 16 parks.
This trampoline park offers a total of 11 attractions, including aerial silks that get your feet off the ground to build upper body and core strength.
For those who want to test their balance, you can also take part in the slack line to see who can make it all the way through without falling off.
Admission to Rockin Jump Trampoline Park is split into two categories, with the standard pass offering two hours of playtime. Prices are $17.99 for children ages 3-4 and $22.99 for ages 4 and up. All-day passes are priced at $23.99 and $29.99.
Flight Adventure Park
This is a space and aviation-themed trampoline park with 8 locations to choose from.
This trampoline park also has a program designed to match the theme - Flight Night. Held every weekend, party animals of all ages are invited to join in on the epic black light trampoline experience.
The attractions at Flight Adventure Park aren't much different from other trampoline parks but feature three different climbing walls. This activity will raise your heart rate, build muscle, and increase endurance.
Admission to Flight Adventure Park is based on playtime. 60 minutes costs $25, 90 minutes is $29, 120 minutes is $32 and a full day pass costs $37.
Rebounderz
This is a trampoline park that was founded in 2008 to create a safe indoor family entertainment center and now has 4 locations.
Offering 20 attractions to have fun on, it also offers food and beverage services so parents have a place to relax and enjoy a cup of coffee. The attractions include a jump tower that allows you to experience the thrill of bungee jumping safely. Overcome the fear of heights as well as build courage. 
Rebounderz tickets are priced in three categories, basic, premium, and ultimate. The playable time is one hour, two hours, and a full day. The prices are $24.99, $29.99 and $34.99.
Bouncing Around
If you're looking for the ultimate aerial thrill, choose from these 7 excellent trampoline parks. All of these trampoline parks are highly rated, with advanced equipment and wide open spaces.
You can experience the feeling of "flying" on a trampoline. It's the perfect place to have fun jumping for people of all ages. It should be noted that we do not recommend that children under the age of 3 play on the trampolines, as they can be easily injured.
Trampoline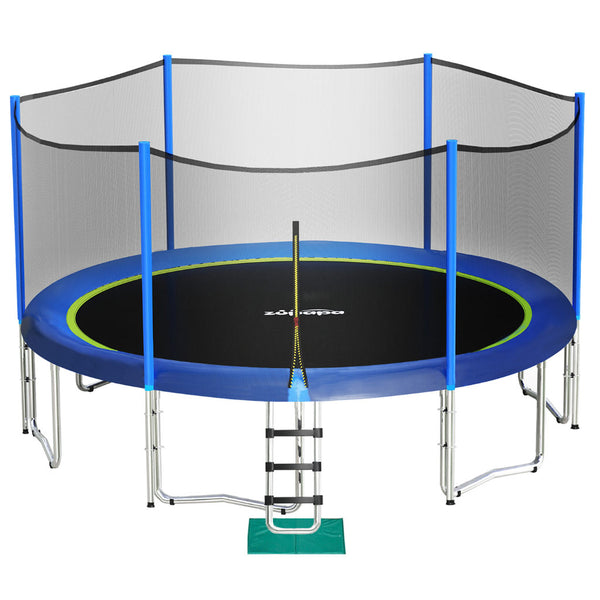 For those who like to play on a trampoline, Zupapa's quality backyard trampolines come in different sizes and colors. Offering a warranty of up to 10 years, they are worth your investment!