A trampoline is a fun and exciting ride on which you can bounce in the air to your heart's content. Besides being a playground for kids, trampolines can also be effective fitness equipment. The many ways to use a trampoline can make it an extension of family life and create precious moments.
The multiple sizes and features of trampolines will make you think about how to pick the best one for a specific age group. Whether you're buying for your child or want to do your fitness training. Consider the following tips for picking out the right trampoline size and features for kids, teens, and adults. 
Children under six years of age
According to regulations, children under the age of six are not allowed to play on backyard trampolines. This is because they are not physically mature enough to control the bouncing. And that leads to the risk of spraining on the trampoline. For young children, it is safer and more appropriate to choose a mini trampoline with diameter of 55 inches or less.
The trampoline must be equipped with a safety net and a solid structure. Adult supervision is required even for indoor and outdoor trampolines. Zupapa's mini trampolines have a maximum weight capacity of 220 pounds and can be used even by children over the age of six.
Children between 6 and 12 years of age
For this energetic age group, the trampoline of choice can be medium-sized 12ft or 14ft trampolines are good choices. The upgraded bouncing area gives them room to experiment with basic jumps and build different skills. And trampolines like the 14ft size are also suitable for the teenage age group. This way this trampoline can be used throughout the kids' growing years without having to buy it again.
With a maximum capacity of 425 lbs, this medium-sized trampoline allows kids to bring their friends along for the fun. Burn off their energy while making friends. Of course, a trampoline safety net is essential.
Teenagers between 13 and 17 years old
Once kids hit puberty, more space and bouncing skills become a must. A large trampoline will be ideal for their long legs and love of sports. Large backyard trampolines like the 15ft and 16ft can provide enough space for trampoline gymnastics tricks like back flips and pike jumps.
Also, the larger space can accommodate enough teens for events like parties. Both sizes also have a maximum weight capacity of 425 pounds, allowing not just teens but families to play on them together.
To enhance the fun factor, Trampoline with Basketball Hoop allows teens to host basketball games on a trampoline. Make trampoline activities more exciting.
Trampoline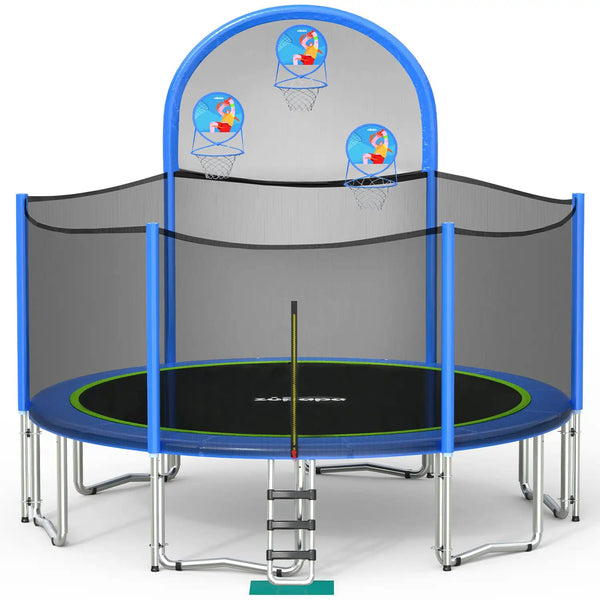 Trampoline for adults
For adults seeking to train or exercise, backyard trampolines in the 10ft to 16ft range provide accessible jumping space. If you don't have enough space for a backyard trampoline, you can also purchase indoor fitness trampolines in smaller sizes.
No matter what your fitness goals are, a backyard trampoline can provide you with the space you need to work up a sweat through cardio and interval training. When choosing the size of your trampoline, first check to see if the space in the backyard can accommodate it and how many people are expected to use it.
Getting ready for the trampoline
After selecting the trampoline, choose the right location for the installation. You will need a level surface away from fences and trees.
The top space needs to be clear and preferably free of any overhanging items.
Tell the kids the rules of the trampoline, don't mess around on the trampoline and only one person can jump at a time.
Trampoline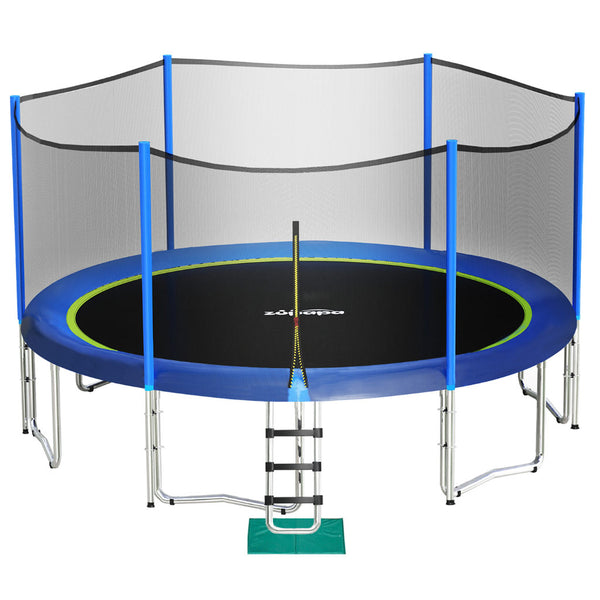 Choose a trusted brand, Zupapa's outdoor trampolines all offer safety nets as well as no-gap designs to keep kids safe. With a ladder for easy access to the trampoline, plus a warranty of up to 10 years, you can have a terrific shopping experience.