"I just want to play trampoline!" little Kate cried and pestered Mrs. White for the trampoline. "But baby, listen to me, it's raining heavily outside. The outdoor trampoline is in our backyard. We can't go out now, otherwise we'll get wet and catch a cold. Do you know that?" Mrs. White comforted her baby Kate. "Kate likes to do trampoline jumping so much, and it seems that I have to buy another indoor trampoline to meet her needs in rainy days," Mrs. White thought. Friends, do you have the same demand for indoor trampoline as Mrs. White.
As there is no way to play trampoline outdoors in rainy days, but the small indoor trampoline can just help to solve the urgent needs of your children. Moreover, when children play indoors, adults are able to do some housework in the spare time. So today I'll recommend you a professional trampoline maker called Zupapa. Let's see how about Zupapa's indoor trampoline.
Zupapa's indoor trampoline is mainly divided into two categories: children's indoor trampoline and adult indoor fitness trampoline.
An Enclosure Net for Indoor Trampoline
The trampoline sizes of these two categories are different. However, the biggest difference between these two trampolines is whether there is an enclosure net. The protection of the enclosure net can greatly improve the safety performance of trampoline. Therefore, the trampoline for kids has to be equipped with an enclosure net.
Unlike to the small kids, Adults themselves have high safety awareness, so generally speaking, for them, there will be no safety problems in the process of playing trampoline. Hence, the trampoline for adults does not need the enclosure net. In addition, the trampoline without enclosure net can provide more space for adults to do exercises, so as to better stretch the body.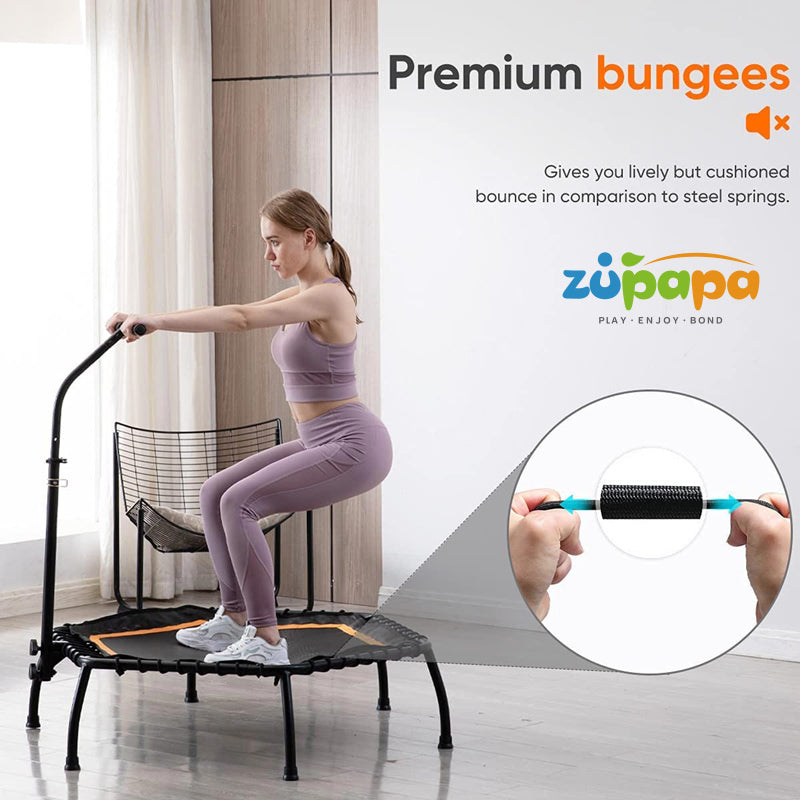 Small Trampoline for Kids
No-Gap Design on Jumping Mat & 30 Bungee Cords
The enclosure net is sewn directly to the jumping mat in order to prevent dangerous gaps between the frame and the stretch bands. And 30 Bungee Cords eliminates the risk of spring injury. Because children's arms and feet are relatively small, when playing trampoline, if there is a gap between the frame and the stretch bands, their feet or arms may be accidentally clamped by the gap, which will produce potential safety hazards. But Zupapa takes the method of sewing, which could effectively avoid the appearance of such dangerous situations. And also the children's skin is very soft, so the hard spring is more likely to scratch them. Compared with the springs, bungee cords are undoubtedly the better choice.
Upgraded Arched Leg Design
We upgraded the traditional legs to the special arched ones, which effectively distribute pressure, increase the stability of the trampoline as well as avoid rollover. Besides, 47inch safety net of this small kid trampoline provides a comfortable and quite free space for children to jump on it.
Stronger Material & Sturdy Trampoline
Different from the normal trampolines in the market, the diameter of our galvanized rust-proof legs is 1.5mm rather than 1.2mm. And the yellow pad made of PE has the thickness of 15 mm, which means it will be hard to be torn. What's more, encrypted enclosure net also protects kids well while they are do jumping exercise on the trampoline. No worries when pushing on one side or jumping against the net wall. Besides, our bungee cords have high quality. You know what, 4 bungee cords which were used in the trampoline can hold a 160lbs man. Therefore, with such a trampoline in the house, parents could do whatever the things you want to do. Zupapa trampoline could create a safe environment for you kids to have fun.
Ultra Silent Trampoline
With rubber leg caps and without springs, Zupapa trampoline does not produce any noise when being played, which means parents could also own a very peace and comfortable time. You and your children all enjoy your time.
Excellent After-sales Service
We provide the customers with 10-year warranty for frame, 5-year warranty for enclosure net and lifetime warranty for other accessories. No matter what happens to your trampoline, as long as you contact us in time, we will provide solutions as soon as possible. Zupapa is always committed to helping make a happy childhood for your kids with a long-term after-sales service.
Click to buy indoor trampoline for kids >>
Small Trampoline for Adults
Trampoline jumping can promote the blood circulation of the whole body, so it can prevent and alleviate some diseases. Doing trampoline exercises is also very entertaining, so it can release pressure and relieve mood. Besides, trampoline can reduce cholesterol and triglycerides in the body, so it can prevent and alleviate cardiovascular and cerebrovascular diseases. Also, if you want to have a good sleep, you really can't miss the trampoline exercises.
Zupapa adult indoor trampolines are mainly divided into two kinds. One is the difference in trampolines sizes, 45 inches and 40 inches. Such small sizes won't take up much space in your house. Just put it anywhere you want. The other is whether there is a handle or not.
Handlebar for Mini Trampoline
Foam-covered handrail helps you keep balance, fulfill flexible actions, and make body coordination. The handlebar height can be adjusted to 5 different heights to meet the needs of different people. And you can also take off the handlebars at will.  However, my suggestion is that you'd better use it when do trampoline jumping. As handrail could serve you as a reliable support, with the handrail, you can get psychological safety, and do more actions during exercise, so that the fitness effect will be better.
Silent Exercise Trampoline
The non-slip shock-absorbing leg sleeves and the bungee cords (rather than the spring) create smooth and silent bounces so you can train without making damaging squeaking noises. Therefore, you can exercise at home at any time without worrying about making a loud noise and disturbing your neighborhoods. Also, silence bounce will also make a cozy and comfortable sports environment for yourself.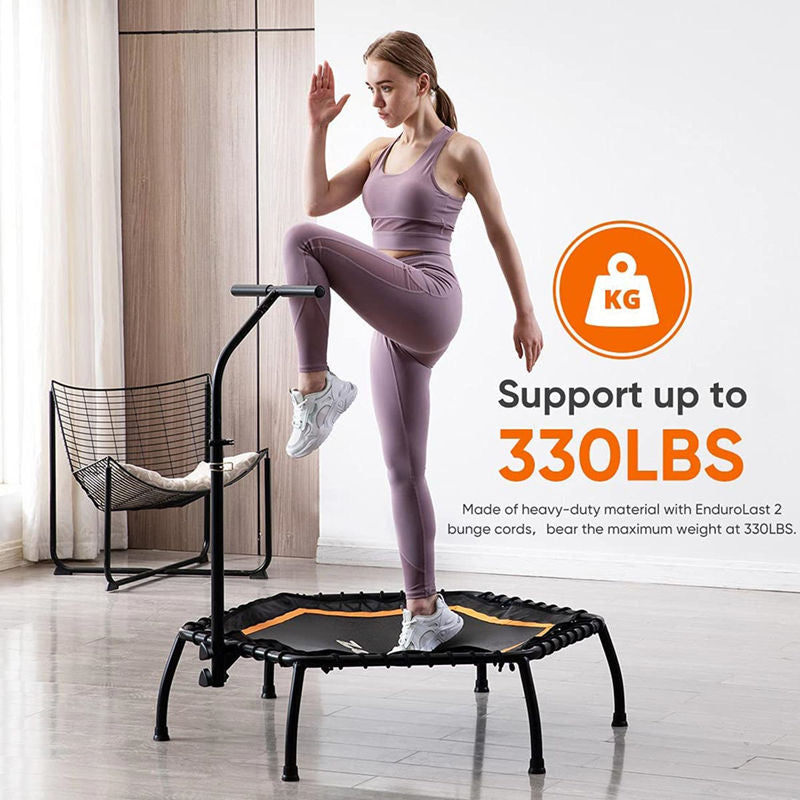 New Upgrade for Fitness Trampoline
The bungee-rope features the latest patented upgrade system that provides joint-friendly suspension, minimizes noise, provides greater stability and flexibility, and deliver you a great jumping experience. Various exercises and intensity levels can be added to increase your strength training sessions.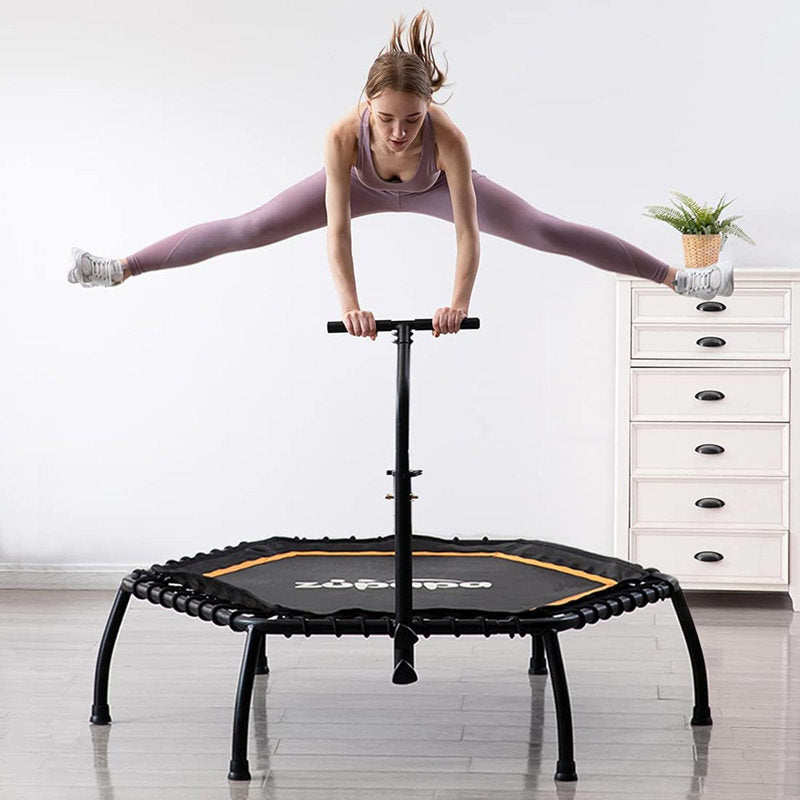 Warranty for Fitness Trampoline
We provide the customers with 3 years warranty for Frame & Handlebar; 1 year for Mat & Bungee Cord; Free replacement (for other parts not mentioned above) at any time.
Click to buy indoor trampoline for adults >>
So after reading the introduction of Zupapa indoor trampoline, Do you feel the amazing performance of Zupapa trampoline. If you need an indoor trampoline now, whether it's for children or yourself, you'd better hurry to the Zupapa official website to choose one. By the way, there are big discounts on placed orders in Zupapa recently.