A trampoline is a piece of equipment that consists of a tight, sturdy fabric that uses many coil springs to stretch between steel frames. People bounce on trampolines for entertainment and competition purposes. The fabric that the user bounces, commonly known as 'bouncing mat' or 'trampoline' itself has no elasticity.
You may not know that trampolines include many types, such as adult trampolines, children trampolines, adult small trampolines, mini trampolines with handles, mini sports trampolines, small trampolines, fitness trampolines, sports trampolines, outdoor trampolines, indoor trampolines, etc.
Trampoline exercise has the following benefits. Firstly, trampoline can bring people happiness. Secondly, trampoline can exercise the body and increase muscle strength. Thirdly, trampoline can promote cardiopulmonary function and digestive function. Finally, trampoline can improve concentration and develop children's intelligence. Help the hand-brain coordination, and cultivate the relationship between children and their parents, and help children with autism to get out of autism.
Some people don't know the benefits of trampolines.
So what does trampoline mean for adults?
Through the trampoline, you can shape yourself, show off a good figure, and burn calories.
To lose weight, you can choose a trampoline with double armrests.
When you are doing trampoline exercises, you can quickly split your legs, you can quickly cross your legs, you can alternate forward jumps, and you can cross your legs.
Other benefits to the body
The trampoline can draw waist, tight hips and slim arms. Then when we choose a trampoline, we must choose according our actual needs.
There are a few things to pay attention to when choosing trampoline for adults.
Some trampolines can be folded. After folding, the trampoline will not take up much space. It can be placed in the storage room or corner of the home. You can also put the trampoline in the trunk when you go out.
There are some soft rubber feet for trampolines that can absorb most of the sound. The trampoline can achieve mute bounce. There is no sound during exercise. The trampoline has reinforced legs, equipped with soft rubber feet and built-in metal sheets, which can greatly reduce noise. When you are doing trampoline exercise, you no longer have to worry about being complained by users downstairs.
Some trampolines contain hooks, which can easily scratch the outer cover and cause injury to the feet.
Some trampoline jumpers are made of strong imported jumpers, PP material, waterproof, wear-resistant and sweat-permeable, easy to clean, and the fabric is strong and durable. The jumper is designed with multiple layers of stitching and edging, which is scratch-resistant, breathable, firm and non-slip.
Some trampolines use reinforced and thickened frame steel pipes. The trampoline introduces high-quality thick pipes and realizes a seamless carbon steel design, which greatly improves the firmness and bearing capacity of the product.
Many people may not know what is the difference between each type of trampoline. 
For adults, what kind of trampoline is the best trampoline? 
Fitness trampoline
Some people may prefer a healthy trampoline. The benefits of this type of trampoline are fitness and shaping.
Zupapa provides a 40 inch round mini fitness trampoline and a 45-inch round mini fitness trampoline.
The advantage of this type of fitness trampoline is that it is easy to fold. The unique frame structure of the trampoline makes the folding size of the trampoline as small as 1/4. You can conveniently store the trampoline in any place, bed, sofa, car trunk, closet, etc.
Mini trampoline with handle
If you have additional needs, you can choose a mini trampoline with handles.
Zupapa offers 40 inch mini trampolines with handles and 45 inch mini trampolines with handles.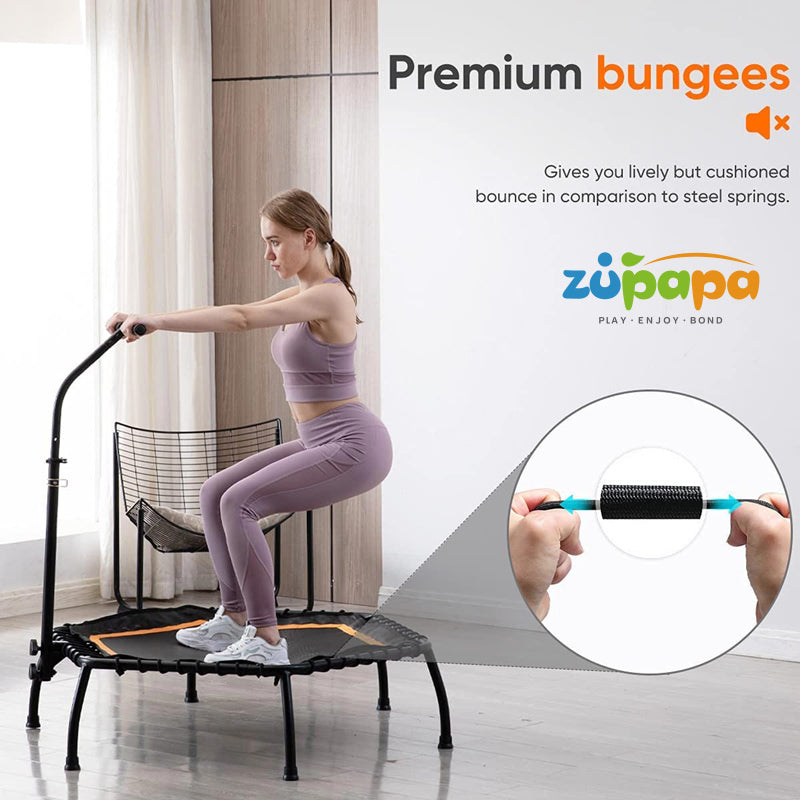 The mini trampoline with handle has the following characteristics:
The trampoline has non-slip and sweat-proof handles to ensure the stability of the movement.
The hexagonal surface provides more space for rebound movement. Multiple durable grips can support a sturdy steel frame and jumping surface, eliminating the risk of breakage.
Polypropylene surface with steel frame, tough and reliable.
The steel frame is firmly fixed on the jumping surface, suitable for high-intensity exercise. The size of the jumping surface is 33.5 length X 38 width (inches).
Durable frame suitable for men and women.
This type of trampoline adopts a compact design and can be adapted to a smaller space.
Multiple leg nail support.
Multiple detachable legs keep your weight when you continuously bounce and protect the structure well. The leg nails can withstand strenuous exercise.
Small trampoline for adults
Some people may choose a small adult trampoline.
The advantages of this trampoline are as follows.
The mini trampoline with spring is probably the quietest mini trampoline on the market, suitable for adults.
Compared with traditional sports trampolines, 36 springs can reduce the impact by more than 50%.
Personal trampoline with straight legs, providing unparalleled stability and safety.
Adult elastic trampoline, anti-rust coating steel frame.
Your personal adult backboard and waterproof PVC mat set rope.
Classic trampoline for adults
Zupapa provides a variety of adult trampolines, including the Safump trampolines and the Saffun trampolines.
Trampoline Safump have 108 springs in total, while other trampolines usually only have 96 (15 feet). The trampoline can provide more rebound and your child will have more fun. The trampoline spring is out of the safety net, so you don't have to worry about your child stepping on the spring when jumping. It passes ASTM and TUV certification. You can buy it with confidence.
The Saffun trampoline on the outside net adopts upgraded technology and technology to make the product life longer. The hot-dip galvanizing process makes the Zupapa trampoline frame and net pole durable. The ultraviolet absorber UV-9 is added to materials, pads, mats and nets to extend the life of the test.
Outdoor trampoline for all
Zupapa provides a 12ft trampoline, which has the following characteristics.
10-ft diameter trampoline with safety shell.
This trampoline can be used indoors and outdoors.
legs made of anti-rust steel to ensure stability.
It will not be too heavy even when moving in the room or yard. You can move easily when it rains.
Easy to install. This trampoline is very easy to assemble. It equipped with all tools required for assembly.
In summary, according to your own needs, you can choose a trampoline that suits you, which is truly a good trampoline.