Children can breathe fresh air and experience a completely different feeling from activities on the ground while swinging on the swings. That is possibly the reason why we can find swings in almost any areas where children like to play in: playgrounds, parks, schools, etc and more and more families have children's swings installed in the courtyard. We're here to introduce 5 most attractive tree swings for kids.
Saucer Tree Swing
2-in-1 Swing. The saucer tree swing is composed of a saucer-style base and four hanging ropes. Some would also are equipped with a detachable tent which makes them a 2-in-1 swing: They are a regular swing without the tent; then turn to a private space when a tent has been added.

High-Quality Materials. The base of a saucer tree swing is composed of a solid steel frame covered by polyester fabrics and durable nylon ropes. Usually, a saucer tree swing can carry up to 300 lbs. It's suitable for children of all ages and enables them to play on the swing with good friends.

Ventilated and Weather-Resistant. The tent is designed to be waterproof and suitable for all seasons. It can keep insects and bugs away and isolate sun exposure in summer. In winter it can effectively block the wind and keep warm.

Simple Assembly. You only need to connect the base frame according to the instructions, and then fix the rope on the tree. Your kids can enjoy swinging in just a few minutes.

Suitable Indoors and Outdoors. For indoor use, you can put it on the balcony as a nice decoration and it is convenient for children to play. If your courtyard is large enough, it is also good to put it outdoors. You can set it up with trampolines to build an amusement park for children.

Suggestions. When choosing the saucer tree swing, quality and size are the two important factors you need to consider. A sturdy steel frame, durable fabric, and high-quality nylon rope can best ensure children's safety. For size, the most popular size on the market is 40 inches, which is suitable for most children.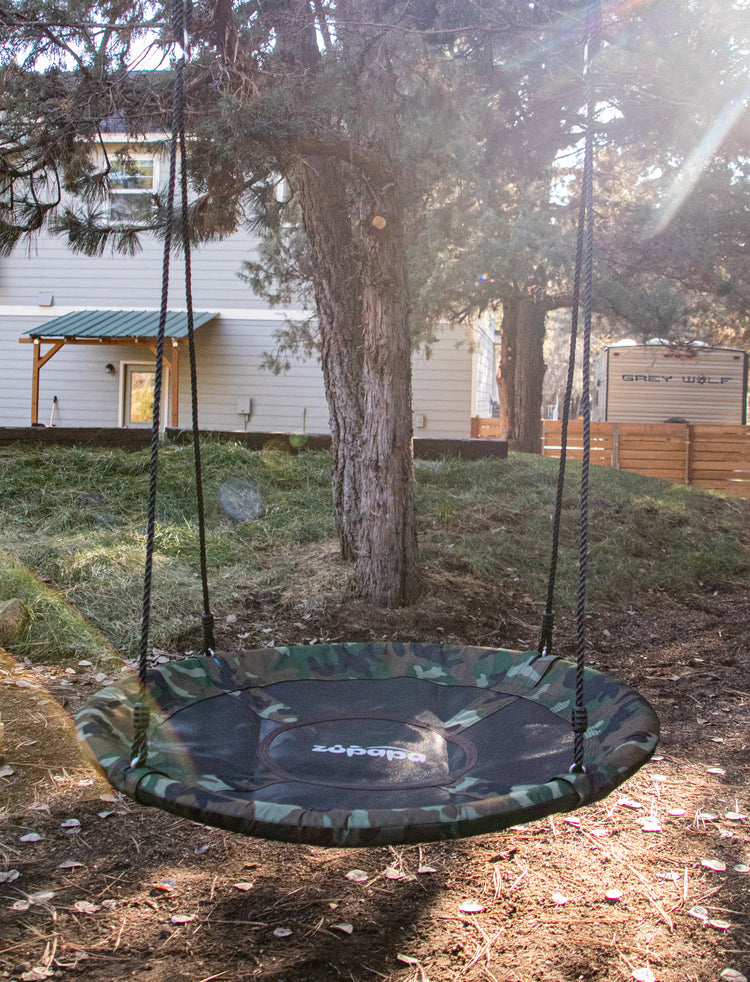 After comprehensive comparisons of the above swings, the saucer tree swing is relatively more recommended for its reasonable price, practicality, and popularity. If you are interested in it, the Zupapa detachable saucer tree swing is highly recommended. It is reliable in every aspect including quality, design, and price.
The Zupapa saucer tree swing adopts a durable and sturdy galvanized frame and moisture-resistant and durable fibers. And multi-strand winding ropes can better ensure the safety of children. In addition, the design of the tent is also a highlight. For example, the build-in mesh window of the tent can keep bugs away. The rolling down door allows children to observe the outside world. Most importantly, you only need to pay $62.99 for the entire swing including the tent!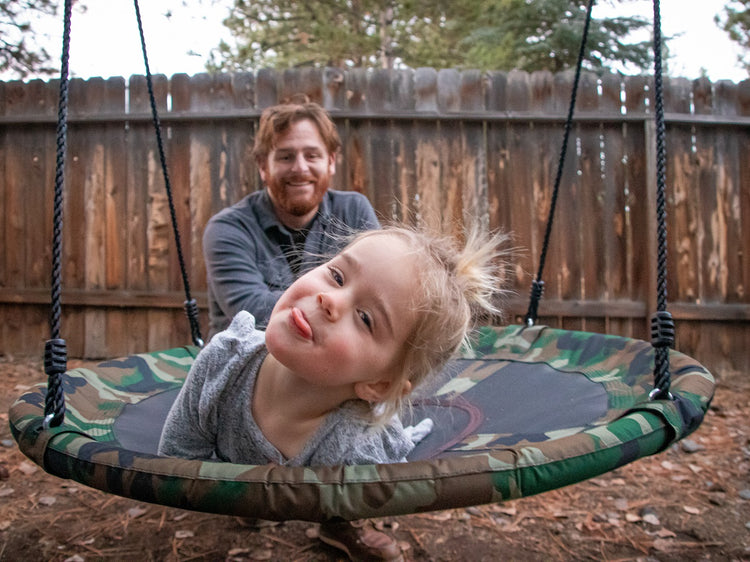 Daisy Disc Rope Swing
Soft Material. The daisy disc rope swing is a soft and lightweight swing composed of a daisy-like base and a rope. Its base is normally made of plastic material and the rope is durable nylon rope.

Cute Appearance. The most attractive feature of the swing is its cute appearance and bright colors. The daisy-like base and colorful designs will surely satisfy the children.

Simple Assembly. The assembly of this kind of swing is quite easy. You only need to connect the rope to the base, hang it on a solid tree, then your kids can sit on it to enjoy the endless fun of swaying back and forth. Of course, make sure they grab the rope firmly with both hands and wrap their legs around the structure.

Affordable Price. Usually sold at $15 to $35, the daisy disc rope swing is very affordable. If your budget is limited or you don't have enough space, a daisy disc rope swing can be a good choice.

Suggestions. For this kind of swing requires children to grab a rope, for better safety, you can choose a daisy disc rope swing with safety grips.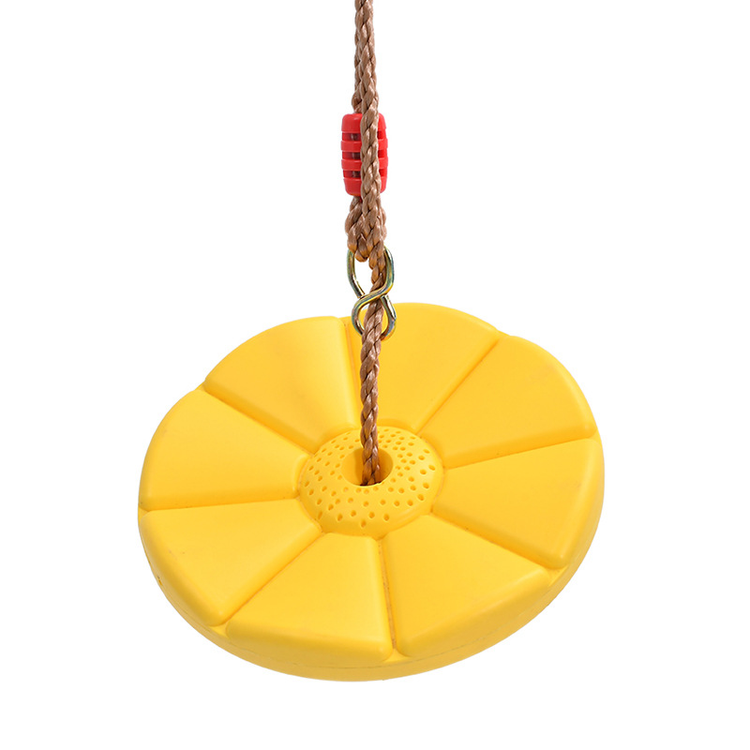 Hanging Netted Seat Tree Swing
Ventilated and Comfortable. Composed of a circular net base and four hanging ropes, most hanging netted seat tree swings are comfortable to sit for their good ventilation. It is suitable for all seasons and children of most ages.

Simple Installation. You only need to hang the rope in a stable position such as a tree or a swing frame, and then connect the other sides of the four ropes to the round steel frame.

Good Capacity. It has an outstanding capacity of up to 400 lbs, which allows children to spend time with their friends or parents.

Suggestions. Pay attention to the performance of the steel frame and the net. A thicker and stronger steel frame can prevent the swing from deforming and a double-knit-fabric net can better ensure its durability.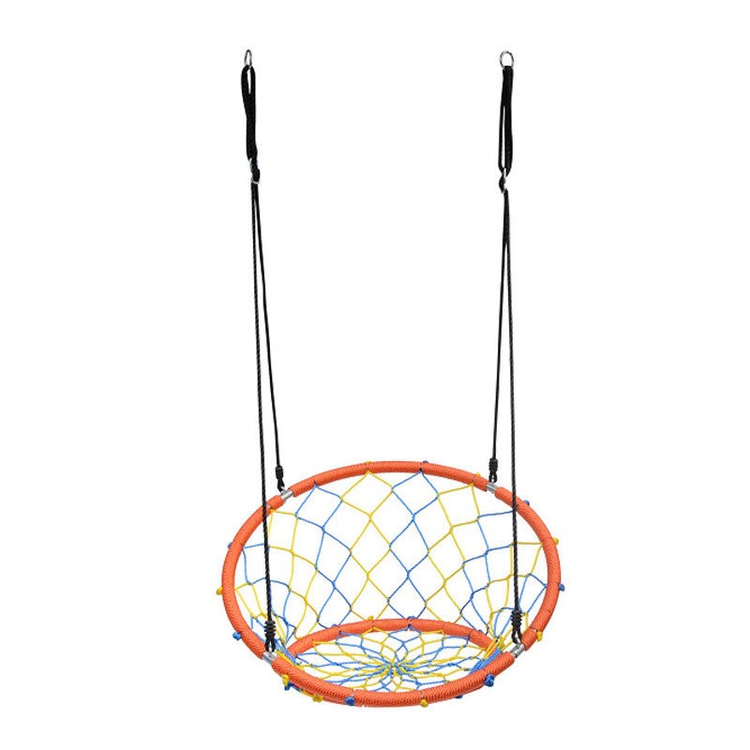 Swing-Board Stand-Up Wood Tree Swing
Composition and Materials. The swing-board stand-up wood tree swings has a skateboard (surfboard)-style wooden base and there is a wooden stick between every two ropes as a handle.

Surfing in the Air. It is designed for kids to stand on it and swing from side to side. With this kind of swing, children will feel like surfing and skateboarding in the air. So for children who like these two sports, this swing will surely meet their tastes.

Suggestions. For children's safety, you have to choose a facility with a high-quality wooden base and rope. What's more, to prevent children from getting injured when falling, you'd better choose a swing with a height-adjustable design and be sure the height is appropriate.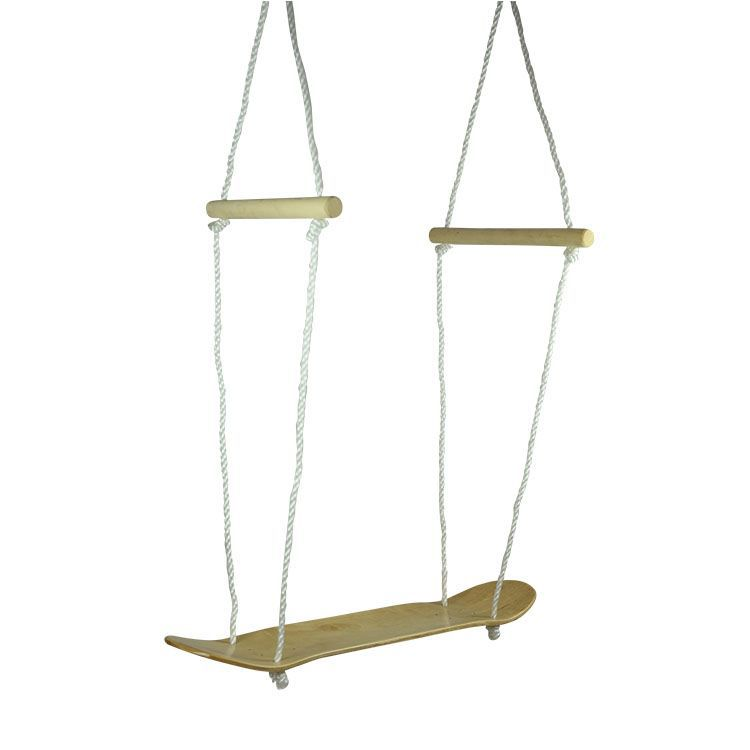 Canvas and Wooden Hanging Tree Swing
For babies. The canvas and wooden hanging tree swing is composed of four wooden guardrails and a bucket seat made of canvas. It is designed for babies, infants, and toddlers.
Security. It has a deep bucket seat and is surrounded by wooden guardrails to prevent children from falling off the swing.
Free Your Hands. This swing can free the hands of parents. Instead of holding them all the time, you can put some toys in the swing and let your little ones sit in it. By this way, you just need to sit next to the swing, watching them play and grin.
Suggestions. Choose a softer fabric or a cotton-filled cushion. And for your little ones' safety, products with seat belts and lockable carabiners will be more reliable.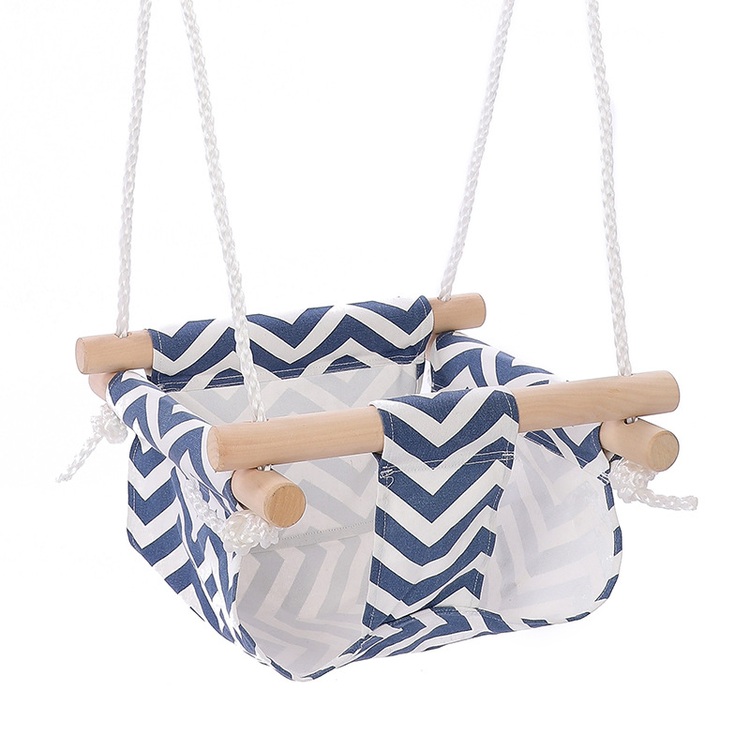 Among the 5 attractive tree swings, which one is your kid's pick? Whatever, upon the arrival of another new school term, it's a good idea to buy one and give your sweetie a big surprise!