Doing sports has been playing an irreplaceable role in children's physical and mental development. Therefore, it's important to develop children's interest in sports and encourage them to do more exercises. With so many sports you can choose from, gymnastics is good choice. In this post, we'll analyze the benefits, general safety instructions for this sport, as well as introduce a reliable gymnastics bar that you kids will surely love.
Top 3
B
enefits of Using
G
ymnastics Bars
Generally speaking, using gymnastics bars for exercise is conducive to children's physical development, character-shaping, and habit-forming.
Physical Development
First of all, using gymnastics bars can enhance children's flexibility. When they practice gymnastics skills such as cast and single-leg cuts, their body can be well stretched, and they will become more flexible after a period of practice. Moreover, gymnastics can help children build up muscles and help them grow taller. Exercise like pull-ups can strengthen the muscles of children's arms, abdomen, and shoulders. In addition, exercising on the gymnastics bars can help children stretch their limbs, which can well stimulate their bones and accelerate their blood circulation and metabolism.
Character Building
Exercising on the gymnastics bar is not only conducive to children's physical health but also helps to shape their characters. For example, from beginner to proficient, children will face many difficulties and failures. They need to do a lot of practice to make their performance perfect, so this can make them more courageous and patient. Later, when children become more proficient, their self-confidence and self-esteem will be increased.
Habit
Fo
rming
Exercising on the gymnastics bar is good for forming a healthy habit. There is a long way to go before get skilled at gymnastics. The daily practice can help develop a good habit. Moreover, they must learn basic knowledge such as what preparations need to be made before exercise and how to protect themselves from injury in the exercise. Practice on gymnastics bars also helps them to form a good body posture and avoid back and spine problems caused by incorrect sitting and standing positions.
Zupapa
gymnastic
s Bar - A Training Bar That Your Kids Will Surely Love
Gymnastics is fun only if both players and supervisors follow the safety instructions, and of course, choosing a reliable gymnastics bar. Here comes a perfect choice -- the Zupapa gymnastics bar, which you can choose from the Gymnastics Bar with Solid Wood and the 175 LBS Capacity Folding Gymnastics Bar. Have an overview of each from the bullet points below.
Gymnastics Bar with Solid Wood
400 lbs Pull-up Limit. It is suitable for beginners and 1-4 level home balance training.

Solid Wood Beam. The high-quality ECO solid wood is environment-friendly and can also effectively protect the player's hands.

Heavy-duty Steel. All the steel is powder-coated for superior anti-corrosion and long-lasting performance.

Stable Base. The base, composed of two 4 ft crossbars and two 5 ft gymnastics bars, adopts a triangle structure and 4 slip-resistant industrial rubber end caps to ensure stability and durability. Your children will feel no sway or swing on it at all.

Adjustable Height. The specially designed screw knobs make the 13 options in height, which can adjust from 3 ft to 5 ft.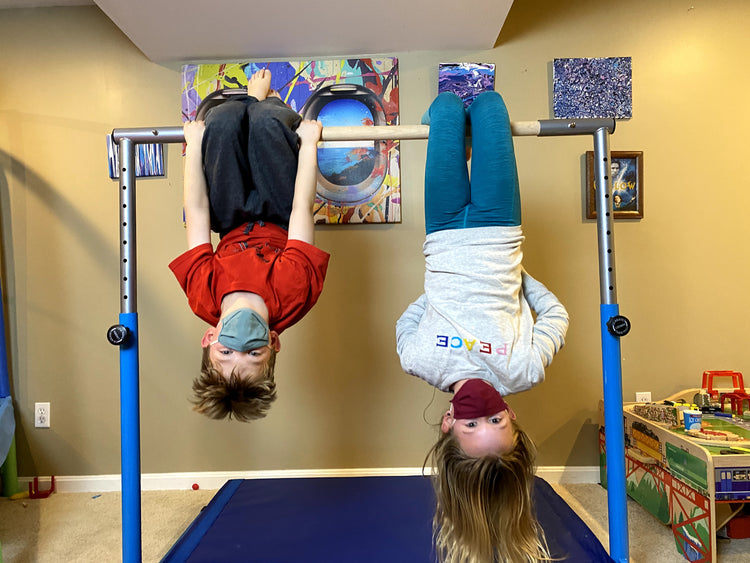 175 LBS Capacity Gymnastics Bar
175 lbs Pull-up Limit. With a direct pull limit of 175lbs, it is suitable for kids between 3 - 12 years old.

Safe Bar. The bar is made of long-lasting steel with a powder-coated finish to make it safer and sturdy for kids to use.

Specially-Designed Base. Compared with the ordinary base design, the right-angled base can help increase the effective contact area with the ground, which is safer and more stable. And the 2 round pedestals and 4 rubber rings can reduce the shock and prevent your floor from scratching.

Perfect gymnastics Bars for Home. The gymnastics bar is also foldable. You can fold it in just a few seconds by pulling up the connecting rods on both sides of the bar, which can help you save many spaces.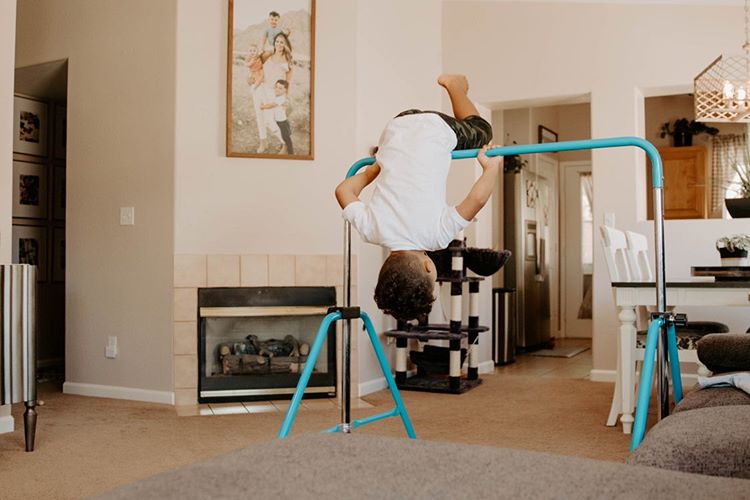 A Big Surprise
f
or Your Kids
In addition to being practical and of high quality, Zupapa gymnastics bar for kids is also a fun product that kids will surely fall in love with.
Attractive Color. The Zupapa gymnastics bar has chosen children's favorite colors: blue and pink which are both bright and attractive for kids.

Compatible with other playsets. It is not just a simple bar. After being equipped with a small swing, your kids can enjoy both the fun of exercising on the bar and the joy of swinging.

Cool challenges. Working out with the Zupapa gymnastics bar is more than just hanging on the bar. Many cool challenges are waiting for children. For example, if they want to master some basic skills on the bar like the cast, pull-over, back hip circle, they need to do many practices. When they finally make it, they will find it is the coolest game in the world!
Important Advice for Using a Zupapa gymnastics Bar Safely
As mentioned above, kids must learn basic safety instructions, so do the supervisors. Improper use can cause harm. Therefore, we've compiled some advice for you.
Before Exercising
Before exercising, parents should prepare relevant protective gear for their children and remind them to warm up. Under any circumstances, children should wear wrist straps, guards, and grips that allow them to grip more firmly and prevent their hands from blistering. If you don't have grips, wrapping your child's hand with sports tape can also provide good protection. In addition, to avoid strains during exercise, parents must supervise their children to warm up.
When Exercising
When practicing on the bar, be sure to be on a padded floor instead of a hard surface. The pad can play a buffering effect when the child falls so that causes less harm to them. Parents must supervise during the whole process and ensure that only one child is using the gymnastics bar at a time. If the child is a beginner, the exercising time and intensity should also be controlled because excessive training can cause muscle strains in children.
After Exercising
After using the gymnastics bar, children need to do some relaxation exercises, such as slowly moving their limbs and breathing deeply, which can effectively eliminate the fatigue after exercise and relax their muscles and nerves. In addition, you'd better ask the children to eat some protein after exercise because it can help supply the glycogen consumed in exercise, provide energy to their body, and promote muscle growth so that your child can be healthier and stronger.
The two gymnastics bars for kids are both high-quality and easy to assemble. No matter which one you choose, it will be a big surprise for your kids. Pick one and give them a big surprise!