Gymnastics is more than a sport, it is also a fantastic way to help children to be healthier, stronger and more confident while having a great time! 
Every mom and dad wants to watch their child grow physically, mentally, and socially, and gymnastics is the perfect choice to turn such desires into reality. Therefore, nowadays, gymnastics enjoys a wide popularity amongst parents.
If you also have kids, you must have heard it many times and may want to have your kids a try. However, when is the best time for your child to start gymnastics? Are your toddlers allowed to practice gymnastics? 
Check what experts and other moms say to get inspired, with a list of useful ways, tips and FAQs to help your kids start gymnastics in ease and safe. 
Best Time for a Child to Start Gymnastics – What Experts Say
"The age of 3 to 5 is a good age to begin, the reason behind this is that in gymnastics it is necessary to have good listening ability and some concentration skills. At the age of about 3, 4, 5 that children are able to sit down, listen, follow directions, which is also important. Gymnastics is a sport that involves learning many things at the same time and follow directions in order to stay safe and prevent injuries. Also, at the age 3~5, children enjoying learning new things, and in gymnastics is a great place for them to achieve." – Shenna Vaughn
Best Time for a Child to Start Gymnastics – What Other Moms Say
"When they are interested. My daughter started gymnastics before she was 3 years old. She took up rhythmic gymnastics at 6. She competed rhythmic gymnastics from age 8 to 14. When she dropped gymnastics and took up field hockey. All in all, it was a great experience for her."  – Laura, mother of a girl
"A lot depends on what age the coaches will accept. In most clubs, coaches will not start teaching a child until at least three years old, as they need to be able to follow instructions." – Blackie Shepard, mother of twin girls and one boy
"Kids who become Olympic gymnasts start when they can walk and train hard."  – Andi Alexander
"You can find gymnastics classes for children as young as 2 years of age, but many coaches say that it's better to wait until your child is 5 or 6 before enrolling in a serious gymnastics program. For younger children, introductory classes should focus on developing body awareness and a love for the sport." – Clarence
Zupapa's Advice on Best Time for a Child to Start Gymnastics
There is no fixed age to learn gymnastics, while 2~13 years old is considered to be the proper staring time. And in normal cases, we Zupapa suggest parents to enroll your kids in gymnastics at age 3~6 around, which is, for most parents, the safest and most worry-free choice. And age 5 or 6 is recommended to enroll your kids in serious gymnastic programs. However, for those who want an early developer of the kid's body awareness and a desire for the sport, you can also help your kids to start gymnastics from age 2 or even during their toddler period. There are also kids who never show any interests in gymnastics until age 8 and even older, but love it suddenly. If so, that time they express their interests is the best time for your child to make their first step. 
How to Help Your Kids Start Gymnastics?
There are two popular ways to help kids to start gymnastics, including taking nearby gymnastics classes with mom/dad or teaching he/she at home. 
Search for "child gymnastics classes near me"
If you want your kids to be involved in systematic gymnastics courses, you can search for "child gymnastics classes near me" on Google or Google map for help. There are tons of gymnastics academies for you to choose, some of which may even have professional teachers (who may be Olympic-record-breaking gymnasts). Experienced coaches know how to unlock the hidden potential of your kids in the safest and professional way, and thus can help your kids make the most efficient enhancement. While on the contrary, they also know very much about how to take your money out of your pocket. You are advised to try some courses in person before making the final classes booking.
Teach child gymnastics at home
You can also teach them gymnastics at home. Nowadays, there are many online courses shared by professional coaches and even gymnasts on platforms like YouTube and TikTok. You can select the best course that your kids love to teach them some basic gymnastics. A Gymnastics Bar is required then. You can follow the step to step instruction to teach your kids gymnastics moves on the bar, like somersaults, straightening their legs parallel to the floor, making 360 degree turns, etc.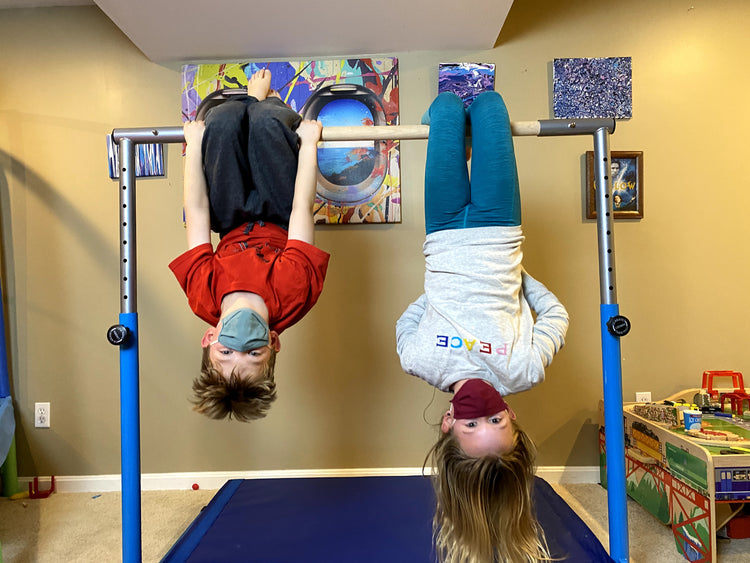 Besides the courses, welcome your kids to your backyard trampoline to do thrilling jumping and high-flying flips. Toddlers can also be welcomed to crawling around the mat of an indoor small trampoline. The soft and bouncing mat will certainly improve your kid's balance, flexibility, and coordination. If your kids perform excellent on your trampoline, she/he may be a future superstar to win a gold medal for your country.  
Tips on Kids Gymnastics Learning 
Follow their heart
Tough practice makes perfect, it is more suggested to allow your kids to try what they really like. There is no need to follow other families' steps, let alone the comparison. Children need encouragements. However, it is also essential for them to follow the right road, which not only enlarges their potential but also never against their interests.  
Warm-ups are essential
Each time before practices, please do not forget thorough warm-ups, which can improve performances and reduce the risk of injure. At least 10 minutes of warm-ups is required. A half-hour warm-up is, of course, better.  Recommended warm-ups should engage your child and get their body moving while do not physically tax, like a slow jog for running... 
Be patient
Seldom sports can be well achieved in a day, a month, or even a year. Therefore, be patient while your kids are learning gymnastics. In addition, compared with the achievements or becoming a competitive gymnast, gymnastics enjoys a more significant role, for most families, in laying a strong foundation for other sports that a child might further express interest in. 
Frequently Asked Questions (FAQs) about Kids Gymnastics Learning
Is gymnastics safe for toddlers?
In most scenarios and for most kids, yes. However, there may be accidents, especially when your kids are involved in serious gymnastic programs. Therefore, you are highly suggested to choose a conscientious coach for your kids. When your kids are taught gymnastics at home, you should focus on their moves in case they fall or get injured. However, sometimes minor injuries are inevitable, after all, your child may also get hurt while playing. 
Is gymnastics bad for children's bodies?
The answer is certainly no if your kids are properly guided. On the contrary, your children will benefit a lot from gymnastics. For toddlers, it is a good way to get their energy out. With their age and level ups, more gymnastics skill they will learn and more body improvements they will get. No matter what level they will finally reach, they will get a healthy lifestyle. 
Can your kids start gymnastics at 12 or above? 
Yes, of course. Teens can also benefit from gymnastics. However, the older they are, the smaller chance for them to compete to other gymnasts who have been training since toddler ages. However, there may be exceptions, Daiane dos Santos, for example, didn't start gymnastics before age 12, however, this shown little influence in her conquering all the others and winning the world champion in 2003.
Child dance or gymnastics?
Other sports like dance share almost the same benefits that gymnastics offers, including strength, balance, body awareness, social skills, confidence and self-esteem, etc. If you don't know which is the better choice for your kids, let him or her try each of them and then select the one that they show great potential or interest. Normally, both dance and gymnastics are good choices for girls and boys, while most girls may show more interests on dance and boys may prefer gymnastics. 
Conclusion
There is no age limitation for kids to learn gymnastics. However, in most cases, the earlier they start, the more goals they may achieve, especially when it comes to be a professional gymnast. However, though there are many toddler classes in gymnastic clubs, you are more suggested enrolling your kids after age 2 (at least 18 months later), because data suggests that your kids can better follow directions after that. There is no such a suggestion if you only want some basic training for your toddler at home.  
Hope this helps and Zupapa may all kids around the world happy gymnastic memories.