Trampolines serve as a fun recreational facility for both adults and children. Imagine a trampoline in the garden, it can bring hours of fun bouncing for the whole family. And why can a trampoline belong in the garden? We have simply listed 5 reasons that can give you more information about trampolines. 
Unique view of the garden
The natural scenery of the garden is a special presence amongst the playtime. You will feel energized when you are surrounded by plants and flowers. These landscapes will even make you feel relaxed and stress-relieved while you are jumping around.
At the same time, you will feel the warmth of the sun and fresh air, making outdoor bouncing time more enjoyable.
Achieve the effect of exercise
Trampolines aren't just for recreation either, they are also a very effective form of exercise. Bouncing for a certain amount of time builds core and muscles. One's coordination and balance can be practiced during the exercise.
A large amount of trampoline jumping exercise can promote the circulation of blood, lymphatic fluid, and all kinds of body fluids throughout the body, and achieve the efficacy of preventing and alleviating diseases.
Than jogging and other ordinary sports, the trampoline is more calorie-consuming fitness. Data shows that ten minutes of continuous jumping is equivalent to the calories burned in half an hour of jogging.
Some simple trampoline tricks can also enhance one's flexibility and are also ideal as a start to training gymnastics. Trampolining in the garden can make the exercise process more exciting and enjoyable.
Precious family time
Trampolines allow families to spend more time together and bond with each other. There are many ways a trampoline can be used besides bouncing. For example, as a drawing board for the kids, a party place, and for backyard camping.
The possibilities for play are endless and the whole family can have fun or exercise together. This is a precious interactive time for every family. It promotes social interaction and strengthens relationships by facilitating communication and collaboration.
Jumping on a trampoline together is not only good for your body, it creates lasting memories and strengthens the bonds of family members. It also allows you to capture unique memories.
Enables children to learn a lot
Socializing
Trampolines are a great occasion for kids to interact and play with their peers. This improves their communication and socialization skills.
Creativity
As mentioned before, trampoline mats are great drawing boards for kids. It gives them the freedom to use their imagination to create it. And they can also bounce around and invent their moves.
Reading Skills
Trampolines are also an unexpected place for reading. Soft and bouncy trampoline mats allow kids to relax and read or enjoy a bedtime story. The outdoor setting will keep them more focused.
Follow the rules
Trampolines also have rules for safe use, and only one person can bounce at a time. Kids need to learn these safety rules.
Adding value to a home
There is no doubt that an outdoor leisure or entertainment setup can add value to a home. For example, a swimming pool, hot tub, or gazebo are all attractive factors for potential house buyers.
And naturally, a trampoline in the garden falls into this category of potential purchase elements. It shows that this is a home full of joy and outdoor fun.
Conclusion
When you have a trampoline, there are a few things to keep in mind.
The trampoline should be placed on a level surface and in a place where there is no danger around it. For example, next to fences and under large trees are strictly prohibited.
The trampoline should have a thick enough trampoline mat and should be in good condition and proper position. And it is best to choose a trampoline that has a safety net.
Trampoline mats, springs, or any other damaged parts should be checked frequently and replaced properly.
Always have adult supervision when your child is using the trampoline.
Best Trampoline for Garden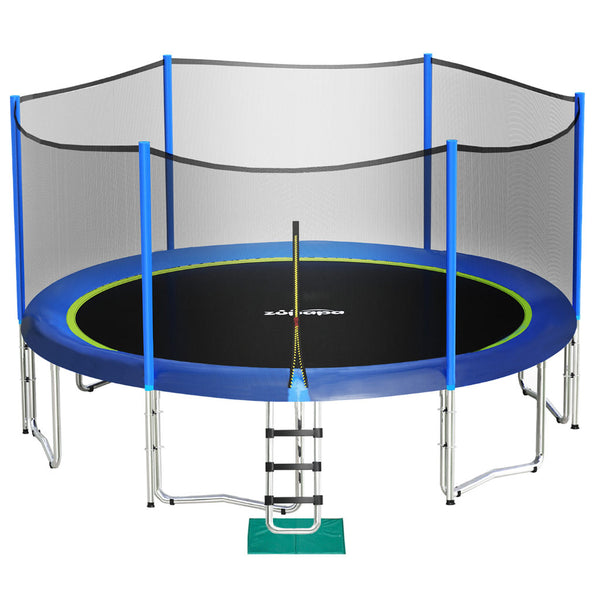 The benefits of trampolining are physical as well as mental. So that your bad moods from time to time can disappear with bouncing. When the trampoline is in the garden it offers endless possibilities for the family.
Embrace the joy and excitement that a trampoline brings and make your garden a center for laughter, fun, and memorable experiences that everyone will cherish!